Wednesday October 5, 2022
Washington News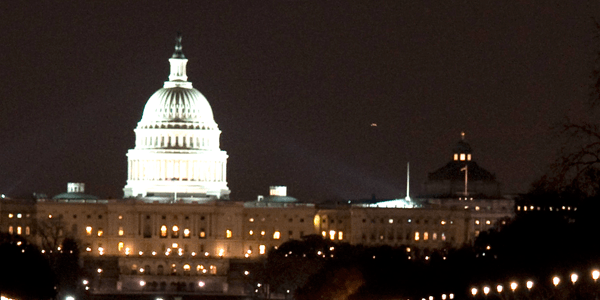 Largest Social Security Increase in Four Decades
The Social Security Administration has announced a 5.9% increase in benefits for 2022. This is a dramatic change over the 1.3% increase for 2021. During the past decade, the increases have generally been less than 2%. Approximately 70 million Americans will receive the increased payment amounts in January of 2022.

The increase is the result of substantial rises in the price of gasoline and other everyday purchases. With port congestion in Los Angeles and a limited number of trucks to deliver supplies, there are shortages of many goods and limited stock on store shelves. The shortages inevitably lead to higher prices.

The large Social Security cost-of-living adjustment (COLA), is a direct result of inflation during 2021. Social Security COLA is linked to the Consumer Price Index (CPI) for urban workers. However, the CPI inflation adjustment used for Social Security is often less than the actual rate of inflation for healthcare costs, Medicare premiums and homeowners' insurance.

With the new adjustment, the average $1,565 per month Social Security benefit for 2021 will increase to $1,657 per month. A couple who are both receiving benefits will enjoy an increase from $2,599 to $2,753. A typical increase for a widow or widower living alone is $1,467 to $1,553.

There are other adjustments that will also take place in 2022. The limit on earnings for Social Security tax will grow from $142,800 this year to $147,000 next year.

The Social Security Administration encourages everyone to create a "my Social Security" account. You are able to access your personal account on socialsecurity.gov. The amount of your 2022 benefit should be displayed on your account by the first week of December.

Most Social Security recipients are also awaiting the announcement of the 2022 Medicare rates. Many Social Security recipients have their Medicare premium deducted from their Social Security check. The Medicare premium amounts should also be available in December.

Many individuals take a reduced Social Security payment starting at age 62, rather than waiting to reach their full retirement age. The full retirement age for individuals born between 1943 and 1954 is 66. Those born in 1955 have a full retirement age of 66 years and 2 months. Individuals with birthdates in 1956 have a full retirement age of 66 years and 4 months.

If you start Social Security payments before your full retirement age, there is a reduction of the base amount. The 2022 base is $19,560. Over this amount, there will be a reduction of $1 in benefits for every $2 in earnings, with a modification of the formula in the year the individual reaches full retirement age.

Editor's Note: While the 5.9% COLA may not cover all of the increases in gasoline, insurance, food and other items, it will be welcomed by millions of Americans.


Law Professors Oppose Defective Easement Deed Provision

A group of attorneys and law professors sent a letter to the Senate Finance Committee on October 11, 2021 expressing their "deep concern about a provision recently added to the Charitable Conservation Easement Program Integrity Act (CCEPIA), that is now part of H.R. 5376, the 'Build Back Better Act.'" In the view of the attorneys and law professors, the provision, which allows a donor to cure a defective deed within 90 days of receiving notice from the IRS, would create "widespread abuse of the charitable deduction for conservation easements."

The provision amends Section 170(h) and states that with "defective language in the deed relating to property line adjustments or extinguishment clauses, the donor shall have 90 days from the written notice by the Secretary to correct such failure."

The signers believe that this provision would seriously damage the requirement that conservation easements must be granted in perpetuity. For over three decades, Reg.1.170A–14(g)(6)(i) has stated that conservation easements must be extinguished only based upon a judicial proceeding and a finding by the court that the conservation purpose under the deed has become impossible or impractical.

The group states that the "90 days to correct a defective deed" provision will lead to widespread taxpayer abuse. Because there is no sanction for noncompliance, the taxpayer may take great liberties, since he or she can always correct a deed. While the correction provision has an exception for "intentional" actions, it may be virtually impossible for the IRS to prove the taxpayer's subjective intent. Therefore, the coalition of attorneys and law professors urged the Senate to remove the provision.

In addition, the provision is not needed, they argue. The IRS has published language that may be used for the appropriate extinguishment provisions in a conservation easement deed. Because the ability to correct will lead to widespread abuse, the provision should not be included.

Several commentators discussed the pros and cons of the corrective deed provision. Wendy Fisher, spokesperson for Utah Open Lands, stated, "As a land trust that works with landowners who want to see their land protected in perpetuity, this new provision, coming out of the clear blue, raises a number of concerns."

Robert Ramsay represents the Partnership for Conservation. His group has criticized the recent IRS focus clamping down on syndicated conservation easements. He states that the proposed curative proposed provision is too narrow. It will allow "only wealthy individuals to retroactively cure their conservation easement donations—while leaving partnerships of less wealthy individuals who have joined together to make donations that have the same, if not greater, conservation benefits hung out to dry."

Editor's Note: CCEPIA has bipartisan support in both the House and Senate. Therefore, a version of this legislation is likely to pass in 2021 or 2022. Senate Finance Committee staff will now review the language of the curative deed provision.


Estate Planners in a Year of Change

2020 and 2021 have been years of dramatic change with the COVID pandemic and major legislation in Washington. The proposed tax plan passed by the House Ways and Means Committee in the Build Back Better Act include two major provisions that upend many preferred estate planning strategies.

These two provisions under revision are grantor trusts and substantially increase nongrantor trust income tax rates.

The BBB Act includes new Sections 1062 and 2901. These two sections are designed to tax grantors on sales to a grantor trust and to treat the fair market value of the trust assets as a taxable transfer upon trust termination. Because grantor trusts under current law are disregarded entities, it is possible to create an irrevocable defective grantor trust (IDGT), a beneficiary defective inheritance trust (BDIT) or a grantor retained annuity trust (GRAT). These trusts have generally favorable results because they are disregarded entities and enable the grantor to leverage his or her gift or estate exemptions. If the sales to the trust are taxable and the "estate freeze" aspects of the grantor trust are not effective, there will be a dramatic reduction in the use of these planning techniques.

An additional benefit of the grantor trust is that the trust is disregarded and the grantor will pay the income tax. For some grantor trusts, the payment of income tax by the grantor reduces his or her taxable estate and effectively increases the benefits transferred to children and other heirs. CPAs were able to continue to follow the familiar personal income tax rules for these grantor trusts.

If these new sections are enacted, many estate planners may transition from grantor trusts to various types of nongrantor trusts. The nongrantor trusts file IRS Form 1041 and pay substantial tax on accumulations of income.

There are several trust income tax increases in the BBB Act. The top trust income tax rate, which is reached at a bracket of $13,050 plus indexed increases each year, would be raised from 37% to 39.6%. With the 3.8% Medicare tax on most passive income, the combined rate would be 43.4%. Under the BBB Act provisions, nongrantor trusts with income over $100,000 per year would pay an additional 3%, for a total federal bracket of 46.4%. While some grantors will fund trusts in states with no state income tax, many irrevocable trusts will continue to be funded in the state of domicile. These could be subject to state income tax rates from 3% to 13.3%. The total tax on accumulated income in a nongrantor trust could be 50% to 60%. While the trusts receive a deduction for distributions, many large nongrantor trusts will pay tax at this top rate on accumulations each year.

In addition, the qualified business income (QBI) limit for a nongrantor trust would be established at $10,000. Therefore, the 20% QBI deduction would be generally eliminated for nongrantor trusts.

If these provisions are enacted, there will be increased donor interest in charitable remainder trusts (CRTs). Under Section 664, the remainder interest in the trust is irrevocably dedicated to charity. Therefore, the CRT with investments in public securities is able to avoid both income and Medicare tax until distributions are made under the four-tier structure.

With tax free growth, a CRT will have a major advantage over a nongrantor trust with annual tax rates on accumulations of 50% to 60%. Therefore, a CRT represents a very attractive tax-planning opportunity. A CRT may function for a duration of one or more lives or a term of up to 20 years and then be distributed to charity.

Editor's Note: Individuals with larger estates frequently create a 5% CRT for the life of each child. The 5% CRT permits the children to enjoy a combination of tax free growth inside the trust and an individual investment and tax planning strategy. Because these children are often in top income tax brackets, the CRT growth and tax benefits are substantial.


Applicable Federal Rate of 1.0% for October -- Rev. Rul. 2021-18; 2021-40 IRB 1 (15 Sep 2021)

The IRS has announced the Applicable Federal Rate (AFR) for October of 2021. The AFR under Section 7520 for the month of October is 1.0%. The rates for September of 1.0% or August of 1.2% also may be used. The highest AFR is beneficial for charitable deductions of remainder interests. The lowest AFR is best for lead trusts and life estate reserved agreements. With a gift annuity, if the annuitant desires greater tax-free payments the lowest AFR is preferable. During 2021, pooled income funds in existence less than three tax years must use a 2.2% deemed rate of return.


Published October 15, 2021
Previous Articles
IRS Free File Available Through October 15
IRS Promises Better Customer Service
Expanded Tax Benefits For 2021 Gifts